The BDHA organise two outings each year – one a self-drive nearby visit which this year will be to Cerney House Gardens, North Cerney for the tulip display on Thursday 27th April to arrive at the gardens at 2.00 p.m. £10.00 per person including tea.
Cerney House Gardens is a romantic, secret place in the Cotswolds, near to Cheltenham.
They are part of the home of the Angus family. Set around a Victorian walled garden, they are described by Country Living as "what most people aspire to in their gardens – and few achieve".
The late Lady Angus and her daughter Barbara developed the garden over the years with a lot of help from nature itself. Barbara had little garden experience when they first arrived but luckily Lady Angus had.
When they viewed the property it was the walled garden that they first fell in love with. This was in the summer and they fell in love all over again when the following spring bulbs erupted from all corners
The second outing will be on 24th August to Morton Hall Gardens and White Cottage Garden. Two gardens, lunch and tea, plus guided tours.
This will be a coach outing leaving the Burford Primary School, Priory Lane, Burford at 9.45 am – price £40 per person to include the coach and Morton Hall Gardens, a guided tour and lunch. Then on to White Cottage Garden and Nursery, for a garden visit and tea – booking essential – please contact Jan Cohen by e-mail cohen4sp@btinternet.com or on 01993 822288
Morton Hall Gardens near Redditch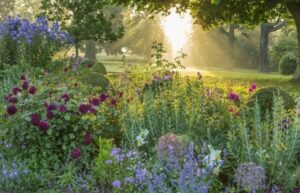 are located on the crest of a steep embankment. The eight acres of garden and park combine historic and new features in a highly aesthetic fashion providing the backdrop for a collection of nearly a thousand plant varieties.

Accompanied by the owner or the Head Gardener, visitors take a tour around the house, through a series of distinctive but linked garden rooms. The journey starts in the West Garden with its bold Mediterranean style planting and stunning views. It continues through the orchard and the walled Kitchen Garden with its 'expressionist' herbaceous borders. A gateway leads on to the 'impressionistic' South Garden, brimming with roses, clematis and herbaceous planting in soft pastels. Past a magnificent chestnut tree, the path continues down through a woodland rock garden planted in cool hues. At the far end, a laurel dome opens out onto a Japanese style garden with two ponds and a tea house. The planting in this area combines Asian and European shrubs and perennials. The journey continues through a magnificent meadow which, in spring, boasts thousands of fritillaries, daffodils, anemones and primulas. The circle is completed passing through the 'New Garden' with its selection of species roses and flowering trees. Throughout the tour, visitors will learn about the history, design and planting of the gardens as well as specific horticultural techniques.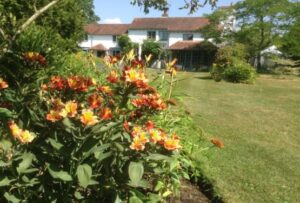 White Cottage Garden
Mel and Jan Bates moved to Worcestershire from Yorkshire in 1981 to a garden consisting mainly of rough field. The ground here is Worcestershire blue clay, a great change from our previous garden of quick draining sand! So this was a challenge.
Over the years we have planted many ornamental trees and developed a backbone of interesting shrubs, these are then highlighted with a great range of herbaceous plants which are constantly changing through the seasons.
The original area of garden is now the most formal aspect with hornbeam hedges, a rectangular pond and borders, but the spring wildflower meadow planted with snakes head fritillary, cowslips, primroses, bluebells and miniature daffodils is a complete contrast.
The island beds and borders have old fashioned scented roses, chaenomeles and peonies under a canopy of trees, herbaceous plants ring the changes through the seasons providing a colourful palette.
The rockery begins its season in January when it is covered with deep pink cyclamen, and then it has an array of flowering plants such as anemone pulsatilla, species tulips, hardy geraniums and dianthus to name just a few.
Our project for the Millennium was to make a circular secret rose garden, hidden behind another hornbeam hedge, the centre has an unusual fountain surrounded by lavender.
This year we are developing a gravel bed with mainly grasses and some ground covering plants which then are backed up by the stumpery and the ferns which are now well developed.
We have redesigned the bed which used to be a shade garden but when we lost the tree in a storm which provided the shade the planting needed to be altered to give colour through out the seasons.
The whole garden is dominated by a glorious Willow which we believe was planted in about 1965 so it does have some growth on it as does a conifer which is near the house.